Another old blog from ScrewAttack, sorry I had a lot going on my end. These are my choices who should be in Injustice 2. I already very excited for it even before I seen an few trailers of it. Also an side note this blog was written an few months before that announcement.
Hi everyone I'm Jack Red, considering Injustice did very well. We should be getting an sequel very soon so while everyone waits. Allow me to personally my two Top 10 DC characters lists representing heroes & villains to please everyone. So many great characters to choose from that everyone has an different list. Please for the love of God respect my work so in order I do the same to you.
Top 10 DC Heroes That Need To Be in Injustice 2
10. Beast Boy
One thing notably lacking in Injustice
was an shape shifter. Here comes Beast Boy from Teen Titans as he can transform into many animals. I could see his combos to some degree surrounding around this especially his big move. Beast Boy would bring more interest in general to the story mode just for being there. Plus he could be getting a lot of costumes just like some of his team mates.
9. Steel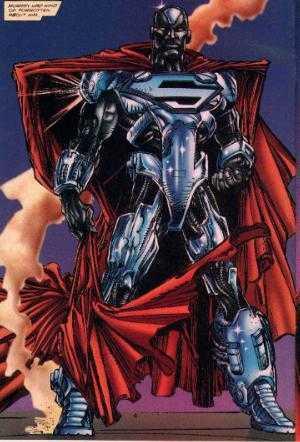 Originally one of the people that was going to replace Superman. Steel built his
equipment literately from scratch as he works at an junkyard similar to an classic cartoon show from my child hood. Considering they show damage done to the characters as they're fighting. I could see them making this guy looking more awesome as the more damages happens. His equipment could be use in many ways during game play. I could see him playing an major role in story mode but that depends on the story itself they're telling.
8. Rorschach
An 50/50
chance we might get this guy from Watchmen in an future Injustice game. One of the most popular anti heroes within DC, Rorschach could bring a few weapons into an fight. I could see him bringing a lot of appeal to many areas of the game just having him in the game itself. Probably one of the most awesome voices with a few costumes. DC really will be getting their money worth if they allowed such an violent character in an Injustice game. I am not kidding Rorschach would be fun to play as but hard to say where would he fit in the story mode. Chances are an big part in an major twist if we're lucky.
7. Starfire
Another member of Teen Titans
that is an alien. Starfire can manipulate fire which this game seriously needs. Easily one of the sexiest DC's heroines as she's very likely to be given a lot of costumes. I'm positive right now a large number of fans really want her in the sequel. She can fly with an hot voice, great lines and an important part in the story mode. Some of her big moves would be mind blowing in any Injustice games. We're more likely to get her over Rorschach but we need to come together fellow DC fans to get her in the next one. For the record she would be an fun female character to play as.
6. John Constantine
Hell
yeah John Constantine would be another hard sell to DC comics. But a lot of comic books knows this guy very well. He has a lot of weapons as well as powerful magic to fight off anything. I could see something big in his finisher as it could involve the building he's secretly connected to for an mind blowing move. I could see them giving this guy a few costumes including one based of the movie. Constantine would be awesome in general to have in any Injustice games. Yeah it's difficult to judge where in the story mode he would fit in at first. But I'm sure if it relates to magic it's likely to involve him.
5. Dr. Fate
Easily one of the most powerful DC heroes, Dr. Fate is an
interesting character. His helmet carries all previous experiences of everyone that wearen him to give to the current owner. This guy could do a lot of things that Marvel's Dr. Strange can do which would make him an awesome playable character. Dr. Fate can fly as well as use powerful magic especially in his big move which should be one of the absolute best if he gets in the game. Similar to Constantine if magic is involved at an few points in story mode you can expect this guy to show up. Clearly done similar characters to him already which should make it easy to bring him in as an playable character.
Superman's cousin that for the most part doesn't hold back. Supergirl has majority of Superman's abilities but has an more awesome personality & yes she's very hot. Let's move on I could see them doing her justice as well as fitting well in the story mode. She is very likely to get a lot of costumes probably Power Girl. Also I usually don't say this but there needs to be more female characters. Supergirl would be fun to play as that brings a lot of appeal including more female fans to the series. I'm just saying DC you got an grand opportunity staring you in your face with characters like her. I also think her big move would be very epic to watch.
Despite not being an fan of this guy I do agree he would bring a lot to Injustice 2.
Dr. Manhattan can do a lot of mind blowing stuff that would be perfect for fighting games. Virtually an god like being that has no limits at all. He could bring a lot of intense fighting action, an major role in story mode with some of the best fighting game moves to date. Yeah don't expect much for costumes as he usually is naked. Anyway I do think they can find him an great voice as well as pull off his character very well. Honestly it depends on DC comics if they would allow someone like Dr. Manhattan as an playable character.
I recently got into this character but heard about him an few years ago.
Firestorm can manipulate like Starfire but like Dr. Manhattan can alter atoms. In an sense if Dr. Manhattan & Starfire for some reason doesn't make it in the sequel. Firestorm would be their perfect replacement as he brings a lot to the table. Two or more fused characters into one powerful being that's also on The Flash show currently two different appearances. I do see them giving Firestorm a few costumes but also some awesome moves including his finisher that literately would be hell on earth. Such an awesome character would be perfect for Injustice 2.
God's wrath really needs to be on this list. Virtually every known power with only two limits. To kill someone God must allow it or he can't is his first weakness with the second being requires an human's body to be able to use any of his powers. However despite those flaws The Spectre is the most powerful DC super hero yes even more than Superman to date. He can do anything that I will be mind blown to not see him in the sequel. Obviously he is an god like being with this much potential of being an great fighting game character. I could see him playing an major part in the story mode maybe as the main antagonist depending on an few possible scenarios. Regardless The Spectre would be the very character I highly demand needs to be in Injustice 2.
Top 10 DC Villains That Need To Be in Injustice 2
10. Bizarro
An clone in some stories while Superman from an alternate universe.
Before we go any further I am already aware there's an evil Superman in the first Injustice game. But Bizarro is an different character from both Supermans in that game. Not as intelligent, weird looking skin with majority of Superman's abilities. Two of his signature powers are reverse from Superman's such as Freeze Vision & Heat Breath. One of the hardest characters to voice as everything he's saying including answers to questions are reverse. But that unexpectedly will bring appeal to the game as a lot of people like difficult to understand languages. For the most part Bizarro is greatly misunderstood but still counts as an villain. Some of you are thinking we already got General Zod. Yes do we but Bizarro has an more interesting personality as well as usage of his powers. It is possible for him to be an major role in story mode.
One of my personal favorite DC
& Batman villains of all time. Obviously it will be very difficult to pull him off in an fighting game. Now look at Marvel vs. Capcom series, similar characters to him was done very well on those games. So it's possible for them to make him playable as long as they take their time doing it. Clayface actually brings more appeal to the game than some characters. Like Beast Boy, he is an shape shifter except he could look, sound and act like other people very well. He can change his body entirely into an giant ball or break into several pieces like Batman: Arkham City. Clayface also can alter his arms into all kind of melee weapons. Everyone would expect an amazing voice for such an rememberable character. I do see him playing an part in story mode depending on what's happening. In all honestly he could be one of the best characters in the game for combos alone.
An talking, intelligent evil gorilla that has many runs in with members
of Justice League. Gorilla Grodd is one of the strongest recurring DC villains as well as one of the smartest. Despite his size, he can move very fast on his feet. Grodd has an interesting way of speaking which many would find interesting. I could see them giving Grodd a few rememberable costume please don't give Donkey Kong lol. Grodd would be an major role in the story mode that would be a little hard at first to play. After getting the hang of things will be one of your favorite characters to play as. I do expect them to give Grodd an awesome, terrifying voice just like The Flash show.
I am aware a few characters go by this
atlas. Regardless Cheetah is Wonder Woman's nemesis that has traits of an actual cheetah. Let's be honest we really need more beast characters. I think Cheetah would bring more than that into the game. I'm positive she will be getting a lot of costumes as well as an hot voice. Yes I am aware we already got Catwoman but she doesn't have powers. Cheetah is Catwoman that does have powers with an similar role that could be an important part in the story mode. I think she could be one of the best female characters to play as due to how she fights. Obviously yes she's aggressive & fast but both of those are traits of cheetahs that would fit perfectly in an fighting game.
Aquaman's nemesis, Black Mantra got enhanced stats from an serum that cured
autism. I didn't know he was autistic either moving on is an skilled swimmer. I could see him bringin in a lot of weapons as well as great lines. Without question would play an major role in the story mode. It's difficult to judge what should be his big move but Black Mantra is an very interesting character. Yes there already similiar characters in Injustice 1 but what makes him different is his equipment. Mostly for being deep in the ocean could play a big part in an fight. I'm positive they will give him an awesome voice with a lot of great moves to match well with his personality.
One of the Flash's worst enemies, Captain Cold uses an absolute zero freezing
gun that handle anyone. He can easily gather people on his side with the most recent comic book version now being an hero. Everyone will remember him best as one of DC's greatest villains of all time. Not only he will be given an awesome voice but an great move set. Yes I am aware we already got Killer Frost but Captain Cold is an much better character. Considering The Flash show's variation would be given to him as an costume he is in big demand right now. Captain Cold would be the perfect ice based character for Injustice 2. He would be an major role good or evil in Injustice 2. Personally I prefer him as an bad guy as it shows his best traits.
The leader of the red lantern corps would be an awesome addition to
Injustice 2. Yes I know what many will be thinking "we already have Green Lantern & Sinestro why do we need another Lantern member?" For one his color is red with a few key changes that makes him an amazing fighting game character probably one of the sickest. He can survive fatal wounds as long as his still has energy left. One unique trait that some people won't like is Atrocitus can manipulate his own blood in sick ways. One of the most aggressively villain characters with his ring working the most part similar to most Lantern rings can do. I could see him playing an major role especially if the Red Lantern corps gets involved which isn't an great thing for Justice League.
An god like being that's Teen Titan's Raven's father. Trigon rules a lot of worlds
with insane abilities despite not being truly immortal. This man could bring a lot into the series similar to another god character Ares. Yet with so many fans not reading comic books would allow the perfect opportunity of making him playable for one simple reason. Most of them are aware of his role but doesn't fully understand how truly powerful this man is. Which is why Trigon needs to be an playable character. I am aware he does appear in Scorpion and Raven's endings but I think everyone will agree we need more. Trigon is the perfect evil god character Injustice 2 needs. I could see him playing an very big role if he plans to take over earth or worse the universe.
I think
another very fast character is needed to help bring in the bounce of things. I believe Reverse Flash would be perfect just like his good counerparts many characters had similar atlas. I'm pretty sure everyone wants Professor Zoom the most famous Reverse Flash that also was on The Flash show. I could see Reverse Flash getting Zoom's costume from the same show which I would pay for on the spot. Virtually everything The Flash can do, so can Reverse Flash. Without question would be an great villain character in story mode depending on what's going on. I could see myself really enjoying playing as him as I play which is an great sign for an possible fighting game character. I do think they will give him an awesome voice as well as great lines.
I am aware in the mobile version more
recently Darkseid was added as an playable character. I still felt such an great villain needs to be on many versions of the sequel. Yes originally by the same team was an sub boss in Mortal Kombat vs. DC Universe to also be one of two hidden characters. Which was in my opinion horribly done I'm positive if Darkseid becomes an playable character. They will make up for that disappointment in an big way. Darkseid will have an awesome voice with great costumes, mind blowing moves including his finisher & an awesome ending. I do see him playing an huge part in the story mode in some way. Darkseid is one of Superman's worst enemies for many reasons some of which helps build up my case for really wanting him in the sequel.
I hope you guys enjoy my blog, as an fellow DC fan I do respect an large number of characters. Everyone will agree majority of these really needs to be in an Injustice game. So I'm Jack Red and I'll see all of you later.