Hi everyone I'm Jack Red, very recently I compared remastered versions of Resident Evil 4,5 and 6 against remastered versions of Dead Rising 1 and both versions of Dead Rising 2. I figured I should talk about the other remastered Resident Evil games. Oddly enough a year from each other except for Revelations 1.
It came out late 2017 but each one does an amazing job recreating the experience. I honestly would go as far to say all of this is better than the three games remastered for it's 20th anniversary. I am not kidding they're truly great remastered games. Revelations 1 doesn't add anything or made any major changes whatever.
I figured why not put these against each other to determine what I believe to be the best remastered Resident Evil game. Of course two of these games isn't as well known as Resident Evil remake. Let me say both RE0 and Revelations 1 are truly an unique experience in their own right. I won't cover every little thing about that just the stuff that matters for this comparison.
Round 1: How well do they hold up?
All of them are very true to their original game at their core. I even felt the controls were even better than those versions. I felt unlike some remastered Resident Evil games, the visuals are notably updated. They actually look even better than they originally did. All of them has their complete soundtracks with all the sound effects.
In fact I'm having a difficult time trying to decide how about going about giving the edge. Each Resident Evil game is a very different experience. They're around the same price as the other remastered RE games. They also have two bundles with Revelations 2 and all of it's dlcs being roughly twenty bucks cheaper than the triple pack bundle.
I think what we should look at is what else do they bring besides the campaign. Resident Evil 0 has Leech Hunter mini game. Resident Evil remake has two unlockable variations of it for both playable characters. Resident Evil Revelations 1 has Raid Mode that's basically it's own game. Obviously remake had the best enemies & bosses.
All three of them are very solid experience in every sense of the word. I would say this is between Leech Hunter & Raid Mode. Two of my favorite RE mini games ever. On one hand, you have to start from scratch every time. But on the other you have several levels & characters from Revelations 1. You can upgrade your equipment & level up your character.
In the end I felt Leech Hunter ends up holding up just a little better. You have to rely on many skills to survive it especially going for all 100 leeches. It does an amazing job using the core game play & further expanding it's usage in a rather interesting way. You are play as both Rebecca & Billy but each 10 leeches removes a slot from your inventories.
Everything about Leech Hunter makes you think how to go about everything. In Raid Mode, you can replay any level as many times you want. But it heavily demands you quickly get great at playing the mini game. You can always buy stuff to help better your chances but you don't have that in Leech Hunter.
Winner: Resident Evil 0
Round 2: DLCs and changes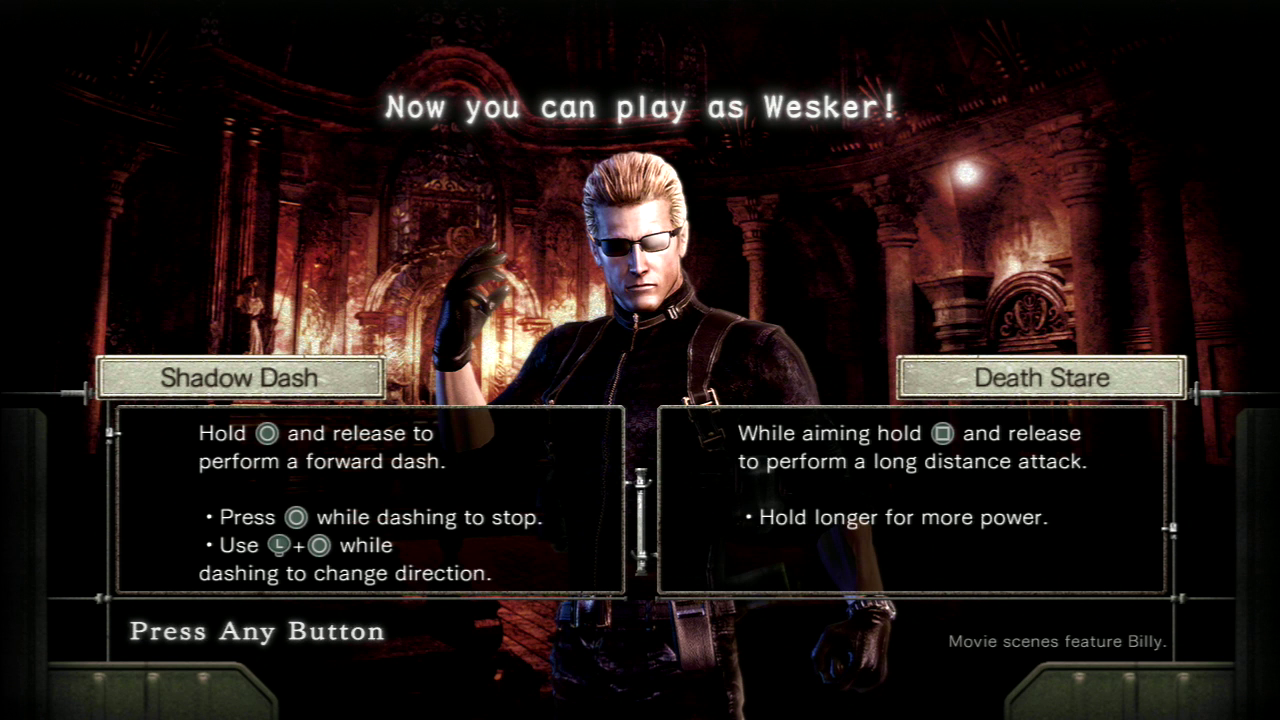 As stated before Revelations 1, didn't change much. Thankfully all of it's dlcs are already included. Resident Evil remake does update the visuals a lot. They asked many fans if Chris & Jill's costumes from Lost in Nightmares of RE5 should be in this new version. Guess what you start up the game with two costumes instead of their default ones.
Revelations 1 is also on Xbox 360, PS3 and PC meaning it automatically uses the same achievements. In remake and 0's case, these remastered versions hit several platforms at once. They got mostly guarantee achievements but they also have some difficult ones. Resident Evil 0 actually made a new variation of the campaign with Wesker replacing Billy.
In a sense Wesker is the hidden character of RE0. Yes all of Billy's lines in cut scenes are still present. In game play, Wesker does have his own lines. Rebecca also gets a new costume similar to Jill in RE5 complete with the device on her chest. Wesker also gets two new moves to help with the experience. Sadly there is no ranking for completing it but Rebecca's costumes will be available in the game.
This was the biggest change any of them gotten. Not to piss anyone off but that's tough to beat. Wesker Mode puts an interesting twist on such a classic game. Easily one of the best Wesker playable appearances yet. Honestly when it came down to what mattered come on it's Wesker in RE0. His name even appears when saving your process.
Winner: Resident Evil 0
Round 3: Overall experience
All of them holds up incredibly well. These are great games for achievement hunting. All of them does test your skills in different ways. Hell I do recommend all three of them over the other remastered Resident Evil games. Technically wise it works way better than Dead Rising remastered games.
Everything in them are very well done in every sense of the word. Resident Evil 0 ends up edging the other two out in many ways. Leech Hunter is actually more fun than the campaign. Sure I could say that about Raid Mode but it demands you quickly get great at it or you won't get far. Resident Evil 0 to me had the best controls out of the three.
Resident Evil 0 and remake does change the costume process to a degree. In remake's case originally you have to beat both Chris & Jill's scenarios twice to unlock all their costumes. Although that part remains the same you do get the option to switch out costumes even before starting. Resident Evil 0 made the process even more fun.
Now in both playable character's inventories is a suit case filled with their costumes. Billy gets two Capcom characters theme costumes. Rebecca gets six costumes from several RE games including her prototype RE0 costume from canned N64 version. You also get a couple of shirts for her to wear. Thankfully most of them are free except for her pre order shirt being a dollar.
Yes you do have to pay for most of these costumes but they really bring much needed appeal. All of them fits in perfectly. Originally you had to beat the game once to get a key for a particular closet on the train. Among finishing the train you lose access to that for the rest of the run. I am so glad this process doesn't even need to beat the game once for it to work.
You can't change costumes in Wesker Mode for obvious reasons. You can change them during Leech Hunter as often as you like. Not only that it names all of them making it easier to keep track of them. Keep in mind both Revelations 1 and remake got residentevil.net support. I find it very weird RE0 doesn't get that for many reasons.
Winner: Resident Evil 0