Hi everyone I'm Jack Red, I recently took down a poor blog of mine about The Mist. I felt with the sheer disappointment that is The Mist show. I deserve to be rip apart for so many reasons. This show is one of the absolute worst Stephen King adaptations I have ever seen. A few months ago, Spike canceled the show after one season. What's amazing is even with episode 1, the ratings were very low. This show to me is a major insult to the short story and King himself.
Let's be honest this show had high expectations. Most people already watched The Mist movie several times. Even King stated along with The Shawhawk Redemption & Stand By Me to be one of his favorite adaptations of his work. We already got a very good take on that short story. How could they possibly turn that into a show?
For comic books there's plenty of things to work with. But they had to make a show based on a short story. Which was close to a hundred pages. It would be different if they took an actual Stephen King book. Keep in mind, several channels had similar shows that were doing much better. Let's be honest I wouldn't even call this a poor man's Walking Dad.
If you never heard of The Mist I will explain it to you. The story centers around a group of people trapped inside a supermarket. Most of the outside is covered in a strange mist with mysterious creatures. This story plays on paranoia, the fear of the unknown and luck. You find out a lot of things later in the story.
To sum it, there is a strong possibility this story could've inspired Konami's Silent Hill series. A good amount of the story centers around a family dealing with a lot of things. The Mist show almost completely ruined the family in a way I honestly was hoping they would die. The only one I like right off the bat is their dad.
The mom has a history the show quickly throws in your face. They made her too much of a bitch almost like being on The Maury Show or Jerry Springer Show. Their daughter is honestly one of the most useless characters I ever seen in a show. She does lie a few times & doesn't hold the truth very well. Oh get this the boy she's into, turns out to be her half brother. Now isn't that disgusting!!!
No sharp shooter was introduced, instead make way for a soldier & a thief. You find out later that guy is actually the one responsible for this. Due to being canceled, we will never know what exactly he has done. As for the thief, she lies & really doesn't hide her dishonesty. Yet they had the balls to put those two into a complex relationship.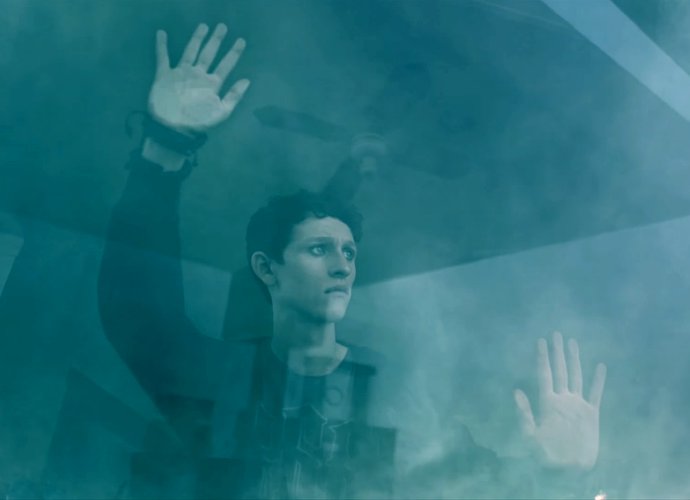 This show also has the crazy church lady. The movie nailed her character perfectly. I really can't say the same about the show version. Early on she loses the will to live on until going into the mist. Very quickly took over the people from the church. Yet she chose to burn those that didn't want to go. This version of her isn't sure of what she is doing. In fact in parts she believes to know what could happen. It almost comes off laughable like a terrible joke that suddenly gets a room full of people laughing.
Instead of being in mostly one place. The show forces us to keep up with groups in several places. Only their dad's group is constantly moving from location to location. Half the family is staying in the mall that led to some unpleasant moments. I already talked about the crazy church lady's story. I felt keeping it mostly one with parts of another group would've work a little better. Sadly the way they chose to tell the story is really thrown in your face like you're suppose to understand everything.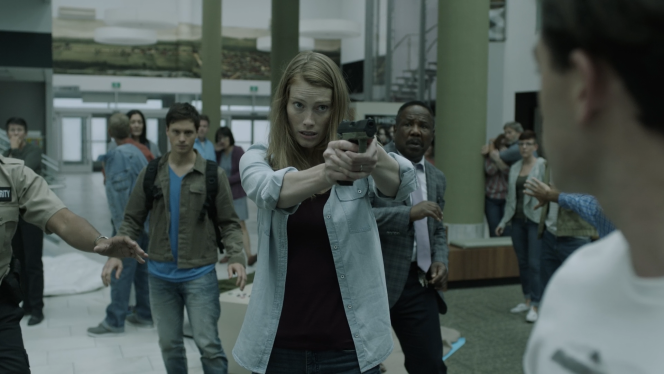 I'll tell you what really doesn't help things. They quickly threw something supposedly happened to their daughter. A very good amount of the show centers around a lie. The truth is her friend secretly loved her & he drugged her to do the nasty. Oh ok so not unnecessary to have in a horror show. This kid has done some horrible things.
I know I'm talking about everything but the mist itself. There is so much to cover in one blog indeed. In the original short story & movie, creatures from another universe is roaming in ours. This led to some disturbing moments worthy of a Stephen King story. OMG how the hell did the show version ruined it so bad?
The actual mist looks too much like a fog. In fact I would go as far to say The Fog remake's fog looks better. Even Silent Hill: Revelation is better & that movie sucks too. You wouldn't believe how they change the dangers of it? Would you ever frickin guess it works almost like DC's Scarecrow fear toxins. I am not kidding, the longer you're in the mist the worse it's effects will be on you.
This mist recreates your worst fears as well as bring out the worst in person. In other words this thing knows you better than you know yourself. How the bloody hell is that even possible? At one point, the mist recreated the Four Horsemen of the Apocalypse. I really wish I was kidding sadly I'm not. The acting overall is way below par from other okay shows I seen in the last five years.
What's hard to believe is this show came ten years after the movie version. You would think they could've given us some great material. By now some of you probably heard the strong dislike of this show. This went too far away from the source material as possible. This is more like a Silent Hill show than anything else.
You won't see the family together for long in the entire show. Now that's just poor writing for a horror show. It would be different if some powerful being were keeping them a part or another end of the world scenario. I believe you know the one zombies I mean come on that's more exciting than this. They did state they wanted to highlight the drama & how some things play out.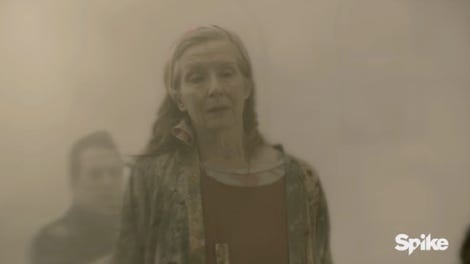 The mist itself wasn't even a major focus of the original short story & movie. You can tell they forced it in like I'm here. You know that annoying person you see in school you can't get away from. They over usage of the mist itself is a huge offense in & off itself. Even Fear the Walking Dead season 3 is doing much better from it's previous two seasons.
You can tell by episode 8, they were trying to force out crazy scenarios. Such as turning everybody else against a family over a lie. Seriously a lie shouldn't play this much of a role. The series finale episode has some of the absolute worst moments I ever seen in a show. A great example of this was the dad goes out of his way to drive on purpose into doors for the mall.
This cause everyone inside the mall to be killed by the mist. Really was this necessary guys because they could've just left. What should've happened is a group of bandits going into a map slaughtering everyone. Almost like a particular part of the original Dawn of the Dead. A much better horror movie I rather be watching over this crap.
This show is so bad that you already know which version I would really recommend. A comparison that's too one sided like comparing The Walking Dead: Survival Instincts to the Telltale Walking Dead games. This is one of the most boring shows I have ever seen. I really can't name a single thing I like. Everything about this show is done so poorly that I wish Stephen King would do something.
Does anyone remember the mini series based on The Shining. Maybe not a master piece but way more faithful to the source material. I do recommend that over this any day. Honestly I could continue to bash this show. There really should be a limit of how bad or faithfulness to it's source material. Clearly this show failed both ways.