Special Thanks Roll Down
Lab Zero Games (Skullgirls)
Minor Key Games (Super Win The Game)
Big Robot Ltd (Sir, You Are Being Hunted)
Team Reptile (Lethal League)
Insurgency (New World Interactive)
DrinkBox Studios (Guacamelee! Super Turbo Championship Edition
GalaxyTrail (Freedom Planet)
Vertigo Gaming Inc. (Cook, Serve, Delicious)
Bundle Stars
Hi everyone I'm Jack Red, on Friday of the week Bundle Stars had it's fourth birthday. I was dead set on buying Batman: Arkham Knight Bundle. As soon as I seen Indie Legends Pick & Mix, my plans quickly changed. For those who are new to the term Pick & Mix it is another title for Build Your Own Bundle.
Just like Interplay Build Your Own Bundle from GOG, all of these were my selection out of fifteen games. I ended up buying eight of them for five bucks with all of them almost being an hundred dollars. I used the remaining amount of money to buy Second Encore update for Skullgirls. I really wanted the full experience with all these games.
They released this deal shortly after Indie Legends 5. Most of their selections were games included in previous bundles. Regardless one of the best selections for build your own bundle I ever seen. I highly recommend anyone with a little more than an day left to go buy this bundle.
1. Cook, Serve, Delicious!
This is an restaurant sim game where you cook, clean and make drinks. The goal of the game is do your best keeping up with your orders. The big goal not a lot of people can achieve is getting your restaurant five stars. At first depending if you played some games with cooking or haven't before like myself. Yes timing is everything especially during rush hours. You have to try your best to stay on top of it. Eventually with money you earn, there is many upgrades to your restaurant & menu. I got to say I was very surprised how good this game actually is. You have to pay close attention to some of the stuff you're serving. Let me put it into an different angle. Stuff like chicken tenders, lasagna & chores are the same exact thing every time. Some food has many options you have to pay attention to what each customer is asking for. An great example of this is baked potatoes. Later on you will unlock catering and carry outs. You can date someone during the course of the game. This is an amazing game you can quickly get use to as you're playing it. Yes to officially beat it you have to push yourself hard. Honestly it is just easier & better for your health to not take it that seriously.
2. Lethal League
Mostly an multiplayer game for both off & online play. There does exist single player in the form of challenge mode. Although this is an fighting game, your goal isn't directly fighting. Instead you are basically playing an game similar to dodge ball. You & your opponent hits the ball around until someone gets hit in the face. You or them have to do this several times to win the match. Very cool retro style graphics with some good songs. It is okay compared to Skullgirls but still worth mentioning. I also like you can play this with an controller. You only get to play as six characters with slightly more levels. I prefer to play with a little more characters with fewer levels. Of course there's plenty of options out there for fighting games. I will say Lethal League is an good game but making it only multiplayer does hurt the game.
3. Insurgency
Not to be confused by The Divergent movie or related mod called Insurgency. This is one of those only multiplayer soldier based FPS games. You can have a lot of guns in most modes. I could understand not having an single player campaign. But it really didn't make up for it being missing. An great mod that is worth mentioning that doesn't have an single player campaign is GoldenEye Source. Everyone knows how repetitive online play can be. Can you imagine how repetitive playing by yourself is in comparison? Counter-Strike that's widely known for it's repetitive game play works just fine playing by yourself. How did they screw something like that up is beyond me. You can go up in the ranks but unlike most FPS games. The only way to do that is to win matches. Good luck trying to get high in the ranking. Honestly this isn't much different from similar games. Yes I know I'm hitting this game hard but I do like the look of the actual game. The controls do work great with an workshop support makes it easier to come back to. It is difficult for me to recommend it as stated before. There are better shooters especially online exclusive games are better than this. Now for an indie FPS game it is good but not great. Lethal League was somewhat interesting in it's concept. I think they over hyped this game a little too much. I will say I do like it to an degree but isn't doing much for me.
4. Skullgirls
This is an amazing fighting game for it's time. For a lot of people it's difficult to believe an small indie developer made such an master piece. Skullgirls is one of the few exceptions to most fighting games. Usually most fighters are male with not many female ones. This game is the opposite having more female fighters with an handful male ones. I love I can play this with an controller. Everything possible way this game blew my mind with it's sheer awesomeness. Very impressive graphics with an amazing soundtrack & awesome sound effects. There is plenty modes to play to keep you coming back for more. I really can't say enough about this game. In fact I knew as soon as I saw it among the fifteen games I had to have it. I went the extra mile by buying all it's dlcs in one go to get the complete experience. It was really worth every penny, I highly recommend this to most fighting game fans.
5. Sir, You Are Being Hunted
The concept of this game is somewhat unique. Officially this is an hunting stealth game. You can change the other four islands you get to explore locations. This also allows you to change every enemy's AI from being gone to easy to difficult in that order. There are a few characters to play as with each having different starting inventory set ups. You can loot places for health, bandages & food. All of that by itself reminds me of Fallout series. It does take time getting use to the controls but they do work. This game requires a lot of patience & being in the right mindset to play. Sometimes trying to find an save spot can be tricky. Yes you have to pay attention to your health at all times. One minute you are fine then suddenly hunger kicks in. Your health starts falling down fast forcing you to work quickly to save yourself. I get why they done it that way to make it more realistic. When it comes to stealth games there isn't anything as close as good as Metal Gear series. I would say I could recommend it to people but an select few. To me this game does feel empty and needs some improvements.
6. Super Win The Game
An follow up to You Have To Win The Game. Both games are based on NES games of that style especially Metroid. You will quickly get use to each location with each new thing you gain makes the game easier. I should tell you that dying will happen more often than you may be use to. Thankfully someone made all the maps for this game. Some areas are massive & confusing to get there. Yet those weren't as close as annoying as trying to figure out what to do before that point. Seriously you need to have a lot of patience. Easy check points with the game always automatically saving your process. I am very surprised you never once in the entire game get an weapon. You have to constantly avoid enemies depending on areas can be tricky & in some cases frustrating. You could keep finding keys or buying them but you could save yourself all that trouble by buying an skeleton key. Some areas are very well hidden that I recommend using that website I stated earlier to help. I do like the sound track but sound effects are okay. Some abilities do make the game more fun like wall jumping or becoming immune to several hazards. This game requires a lot of memorizing especially near the end of the game. Also this game has the shortest ending credits I ever seen. In conclusion it is better than half this bundle but the other half being far superior in their own right.
7. Guacamelee! Super Turbo Championship Edition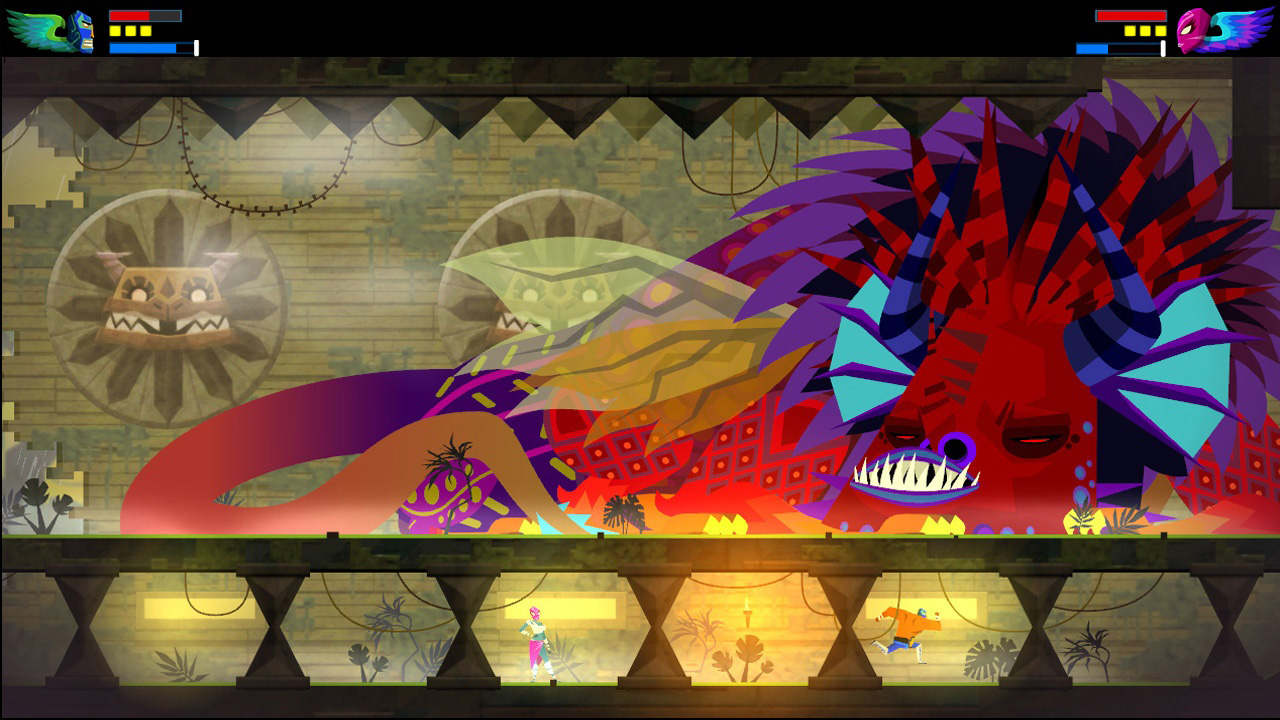 I never thought I would play an game like Castlevania: Symphany of the Night ever again. Until I played Guacamelee! Super Turbo Championship Edition. This is the definition version adding more to the gold version. You play as an man who becomes an mexican wrestler to save an woman. But you have to deal with every obstacles in both the world of the living & of the dead. I like how they went about the map system very clever. Every upgrade adds more depth to the overall game. Impressive artwork with great voice acting. Some of the finest puzzles I ever seen in any platform game. You could take hours in most locations since even town maps are huge. Most important areas are massive especially the last couple. Each boss fight pushes you harder then you would expect. An great variety of enemies with an awesome soundtrack & sound effects. Not only this is one of the greatest indie games I ever played. This is now one of absolute favorite platform games. Plus you can add costumes for free from the workshop. This game honestly blows my mind how great it actually is.
8. Freedom Planet
An unique Sonic clone that surprisingly gave me the same feeling from first playing those classic Sonic games. The only Sonic clone so far to do that. Freedom Planet heavily inspired by those games with traits from other platformers. Very amazing artwork, graphics, audio and controls. You start out with two characters but can unlock an third one. Each character plays very different making the game more interesting. Great bosses that do require memorizing and patience. Carol can ride an motorcycle that makes some of her levels more fun. You do two versions of each character's game either in classic or adventure. Classic is like classic Sonic games with some cut scenes. Adventure does change the level line up with more cut scenes to give you more story about what's going on. Everything in this game is incredibly done well. I would go as far to say this is one of my favorite indie games ever. I am really impressed all the work that went into this. I should mention any dlc coming to this game will be free & automatically added now how awesome is that? Freedom Planet has some of the finest retro modern game levels I ever seen. They did an amazing job keeping the replay level high.
This following list going from the worst to the best. Now the lowest my bundle goes is okay meaning none of these sucks. I am very glad I bought all of them together in such an amazing bundle.
8. Sir, You Are Being Hunted
7. Insurgency
6. Lethal League
5. Super Win The Game
4. Cook, Serve, Delicious!
3. Skullgirls
2. Guacamelee! Super Turbo Championship Edition
1. Freedom Planet
I hope you guys enjoy my blog, if everything works out. Another one I been working on and off should be out within the next few days. Until next time I'm Jack Red & I'll see all of you later.